About Yardie Tours
Have you ever had the urge to go somewhere or do something away from the norm or to treat yourself to something extra special and see the greater things that life has to offer? Yardie Tours has several excursions to help you with that experience. We maneuver tours from hotels and piers in Falmouth, Ocho Rios and Montego Bay.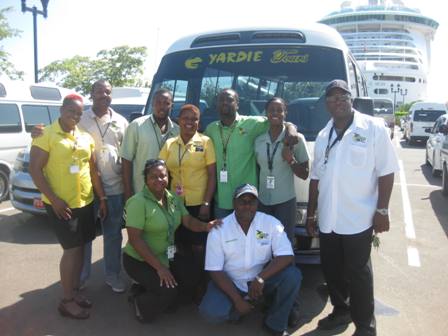 Our amazing drivers and tour guides attend to your every need. They make sure you have a wonderful time visiting our beautiful island of Jamaica, the land we love. Our vigilant drivers are ranked at the top of the list; we have Nicole, Christopher, Shawn, Earl, Shaw, Daryl, Radcliffe, Sutton, Jerome, Arden, Raymond, Glenroy, Marland and many more. Our culturally aware guides include Alicia, Carlene, Denise, Tricia, to name a few.
Our goal is to become the number one (1) tour company in Jamaica by providing extraordinary services to satisfy our guests. We are sure to make 100% of our guests into repeaters; our tour guides are reliable, competent and aware personnels. Our commitment and dedication to our work drives Excellencies on a daily basis; therefore, pushing us to accomplishing our goals. We are here to fulfill your needs and not our own.
Our vehicles have the required documentations and Insurance for operation. We therefore use the red plate which is a requirement of the Jamaica Tourist Board, and Transport Authority. Also we are licensed by the Office of Registrar of Companies Jamaica (ORCJamaica), trained by the Tourism Product Development Company (TPDCo) and approved by The Jamaica Tourist Board (JTB).
We are qualified to transport visitors all over the Island. There are fourteen (14) parishes on the island, Saint Ann being our main parish and Ocho Rios, the main town. There are many attractions and easily accessible areas for tourists on one day tours, sightseeing or stop over visits.
We love our Island and take pleasure, with excitement in sharing Jamaica with all our visitors and friends from abroad. If you would like more info about us please email us at ytinfo@yardietours.com
If you are in Jamaica and in need of a beautiful airbnb please check out Coles Getaway
Saint Ann (capital, Saint Ann's Bay)
Saint Ann is the largest parish in Jamaica. It is situated on the north coast of the island, in the county of Middlesex, roughly halfway between the eastern and western ends of the island. It is often called 'the Garden Parish of Jamaica' on account of its natural beauty. Saint Ann is the birthplace of reggae singers Burning Spear and the honorable Bob Marley (d. 1981), and The Right Excellent Marcus Mosiah Garvey (d. 1940), one of Jamaica's seven National Heroes. St. Ann is one of the oldest populated areas in the island of Jamaica tracing back to 600 - 650 A.D. More Info